Jill Maria is a musician with very diverse tastes, who performs at area clubs and venues and participates in a number of regional  open  mics and jams, and is available to provide entertainment at your venue for your event, weddings, wedding receptions .
She can easily provide classical, or formal music at a wedding, and then switch gears to fun stuff for a reception, whether it is time to sit in the corner and make soft music, or bring on the full band!
Instrumentation may include:
Voice and Solo Guitar
Instrumental Acoustic and Classical Guitar
Voice, Guitar, Bass, Percussion
Voice, Guitar, Percussion
Voice, Keyboards
Classical Guitar and Flute
Classical Guitar, Flute, Clarinet
or many other combinations depending upon your needs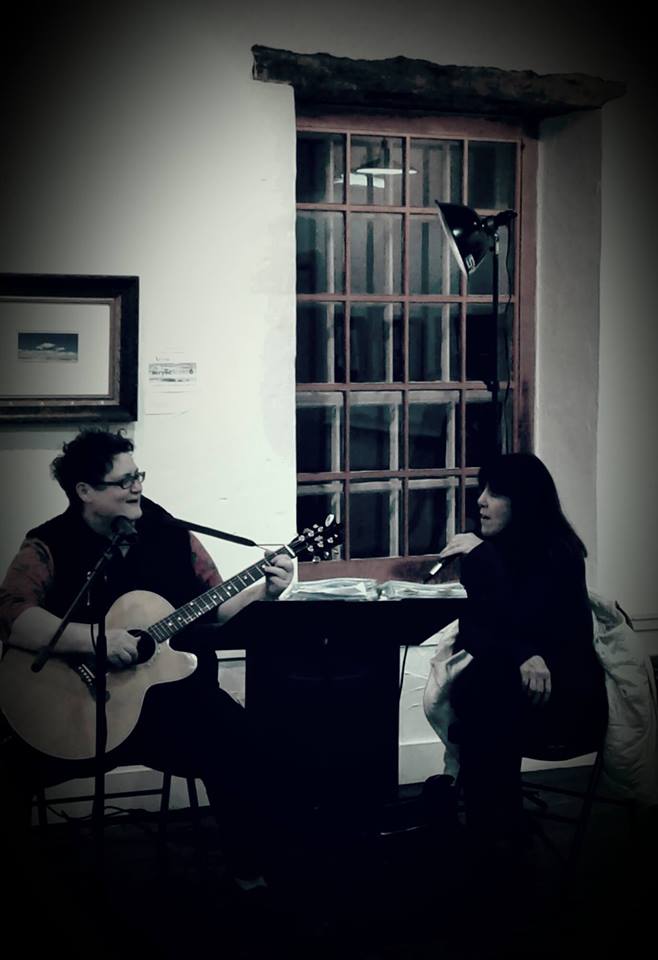 Photo by Ann Meyer Fieldstone Gallery, Cedarburg
Photo Don Woelz Slingerhouse Pub and Grill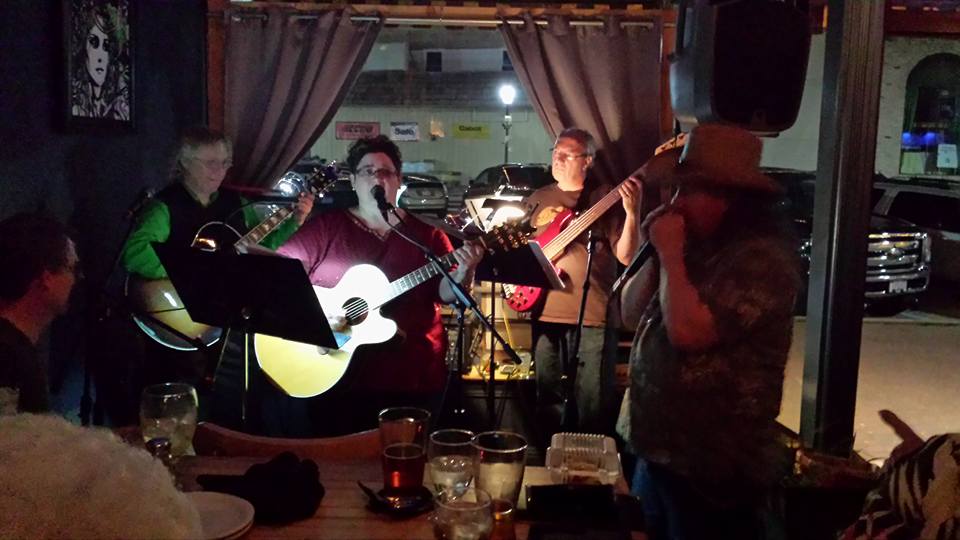 Photo Don Wolz  The Norbert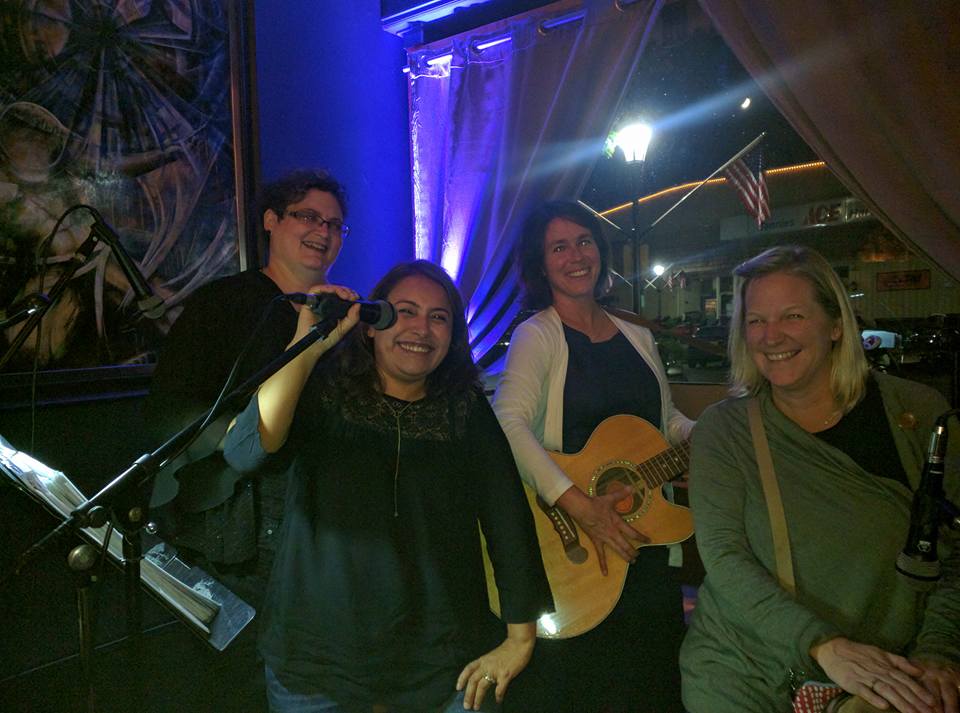 Fans wanted a photo op   The Norbert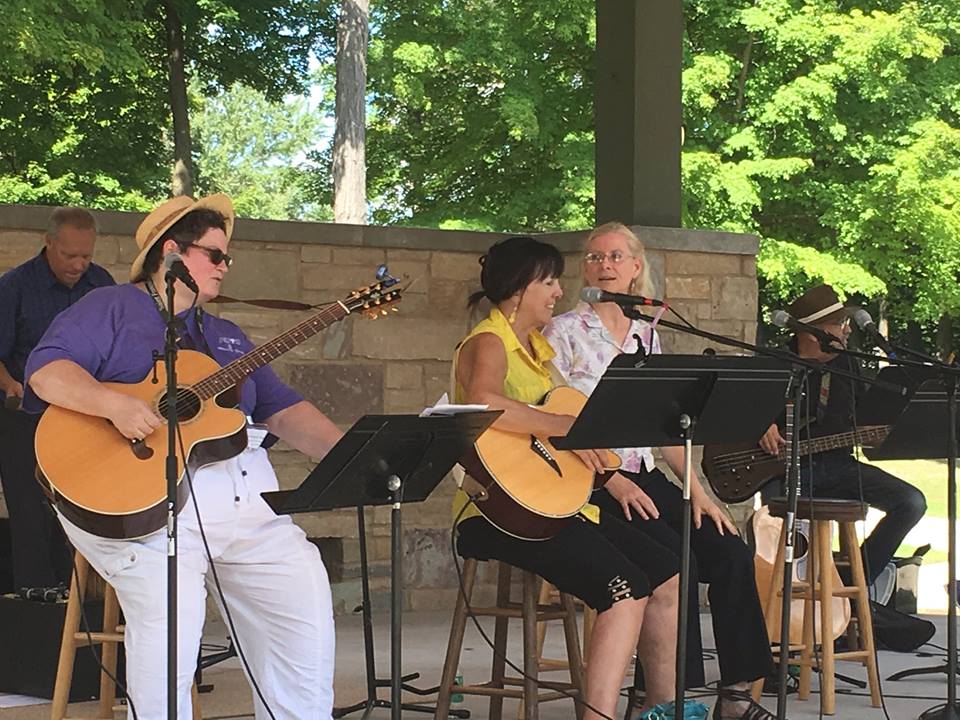 Jill Maria and Friends at Faith and Family Fest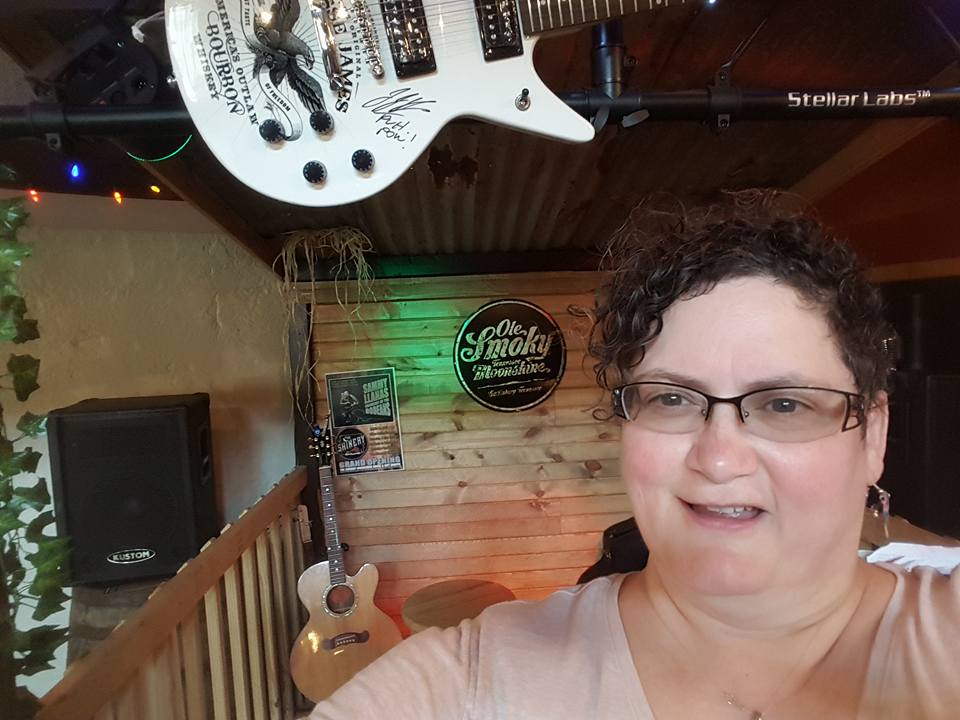 Playing at the Shinery Cedarburg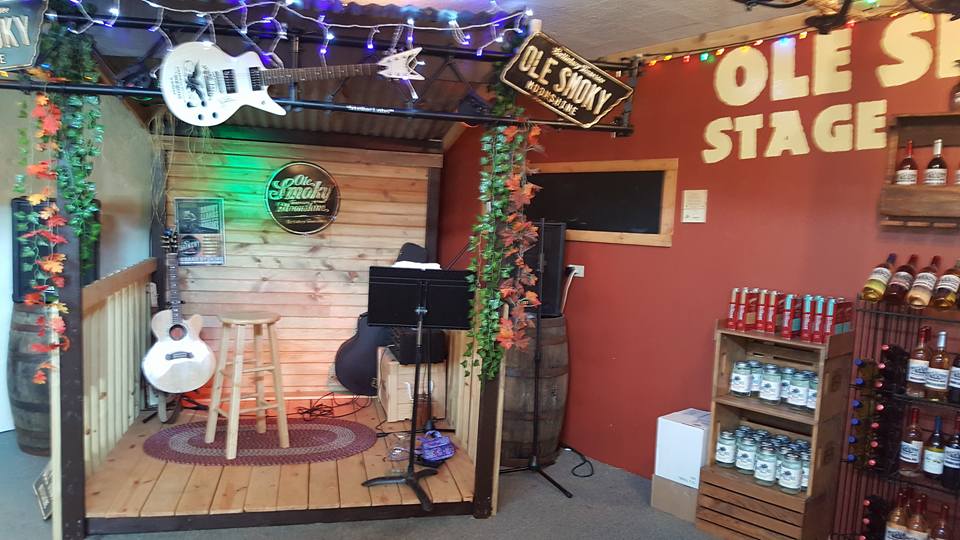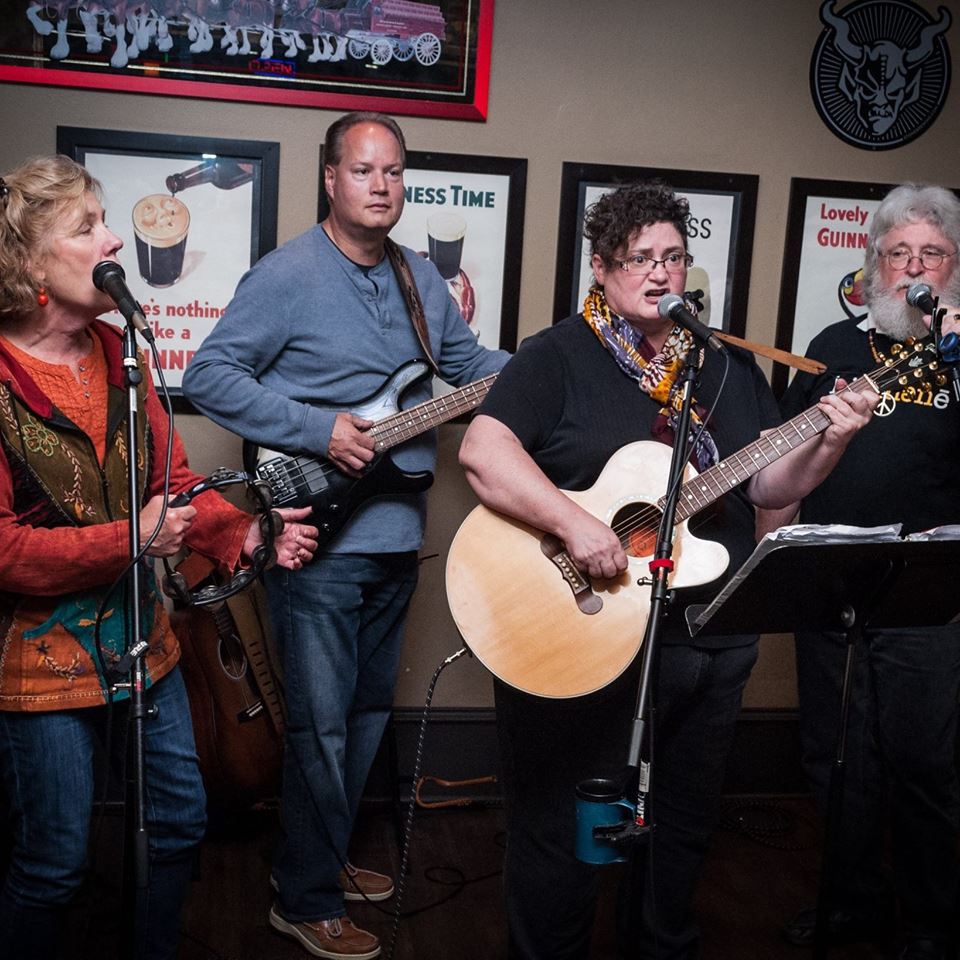 Singing with Pals at the Slingerhouse Pub  Don Woelz Photo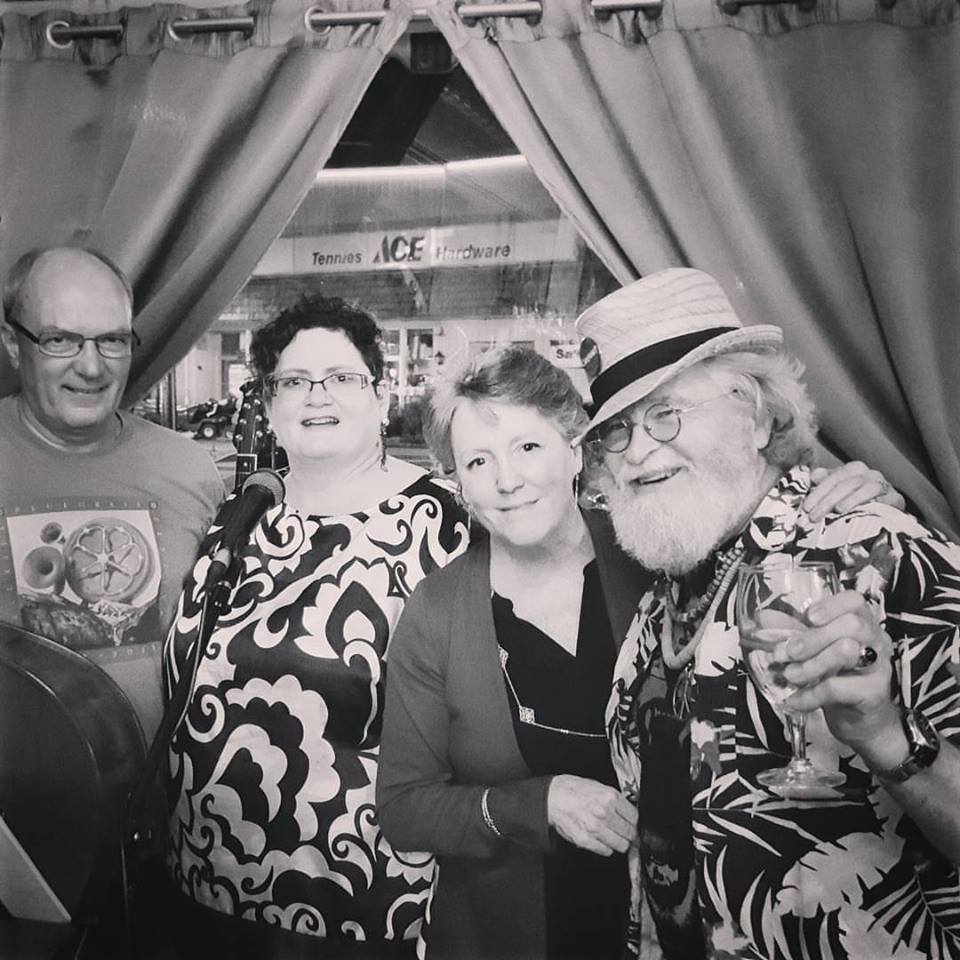 Jill and Bill at the Norbert (with some help from Trish and Rick)
Her eclectic music tastes will take you through the years just take a look at her partial songlist! Below
Covers
I got to sit in with some friends the other day for this one 😉
Originals
Autumn Song This one started out as a Haiku…

Do You Know? A silly song inspired by my cat that calls on the old country of Buck Owens.
Fun…. "Tell Me Why/Mother Pin a Rose on Me"

Two recordings of a song I wrote years ago for my Mother.  I was always thankful I got to sing this to her while I was living.  I sang it to her the night I made my first monastic vows.

Waltz for Rosemarie II from Jill Maria Murdy on Vimeo.
A Waltz for Mother from Jill Maria Murdy on Vimeo.
It's Raining Outside……
One I wrote a hundred years ago 🙂

Partial Song List
| | |
| --- | --- |
| A Life That's Good | Lennon Maisey/Nashville |
| Across the Universe | Beatles |
| All I Could Do Was Cry | Etta James |
| All My Loving | Beatles |
| Alberta | Eric Clapton/Leadbelly |
| Always | George Gershwin |
| Angel | Sarah Mclaulin |
| Angel of the Morning | Juice Newton, Marilee Rush |
| Baby Can I Hold You | Tracy Chapman |
| Bad Moon A Rising | CCR |
| Because of You | Kelly Clarkson |
| Being Alive | Company |
| Before You Accuse Me | Eric Clapton/Classic |
| Besame Mucho | various |
| Big Girls Don't Cry | Fergie |
| Billboard Song | Homer and Jethro |
| Black Horse Cherry Tree | K D Turnstall |
| Blame It On Your Heart | Patty Loveless |
| Blue Moon | Lorenz and Heart |
| Blue Eyes Crying In the Rain | Willie Nelson |
| Both Sides Now | Judy Collins |
| Brandy | Looking Glass |
| Breaking Up is Hard to Do | Neil Sedaka |
| Brown Eyed Girl | Van Morrison |
| Bye Bye Love | Everly Brothers |
| Cab Driver | Mills Brothers |
| Cest La Vie  You Never Can Tell | Chuck Berry  Bob Seger |
| Closer To Fine-Mr Bojangles 🙂 | Bodeans |
| Come Monday | Jimmy Buffet |
| Cotton Fields-Spirituals Medley Darlin Can't Love | Leadbelly CCR |
| Crazy | Patsy Cline |
| Crazy Love | Poco |
| Crazy Arms | Ray Price |
| Crazy Little Thing Called Love | Queen |
| Dancing In the Street | Martha and Vandells |
| Don't Cry For Me, Argentina | Evita |
| Don't Get Around Much Any More | Duke Ellington |
| Dust in the Wind | Kansas |
| Eight Days a Week | Beatles |
| End of the World | Skeeter Davis |
| Everybody Hurts | REM |
| Frim Fram Sauce | Nat King Cole/Diana Krall |
| Falling Slowly | Glen Hansard, ONCE |
| Follow Me | John Denver |
| Fifty Ways to Say Goodbye | Train |
| First Cut is the Deepest | Cat Stevens |
| The Fox | Folk Song |
| For Baby (Bobby) | John Denver |
| Get Together | YoungBlood |
| Grandma's Feather Bed | John Denver |
| | |
| Five Minutes More | Sammy Cahn |
| Fix You | ColdPlay |
| Gypsy Rover | Clancy Brothers |
| For the Good Times | Ray Price |
| Glitter in the Air | Pink |
| Green Green | New Christy Minstrels |
| Five Hundred Miles | Roseanne Cash |
| Flashdance-What A feeling (ode to) | Irene Cara FLASHDANCE |
| Grow Old With Me | John Lennon |
| Halleuijah | Leonard Cohen |
| Happy Wanderer | Traditional |
| Have You Ever Seen The Rain | Creedence Clearwater |
| Here Comes the Sun | George Harrison, Beatles |
| He Thinks I Still Care | Beatles, Ann Murray |
| Help Me Make It Through the Night | Kris Kristofferson |
| Hey Jude | Beatles |
| Hey Good Looking | Hank Williams |
| Hooked On A Feeling | Bj Thomas, Redbone |
| House of the Rising Sun | Animals, Tradition |
| I Can See Clearly | Johnny Nash |
| I Need You Now | Lady Antebellum |
| I Still Miss Someone | Johnny Cash |
| I'll Stand By You | Pretenders |
| I Hear You Knocking | Dave Edmunds |
| I Hope That I don't Fall in Love With You | Natilie Merchant Tom Waits |
| I Never Will Marry | Joan Baez, Linda Rondstandt |
| I Saw Her Standing There | Beatles |
| If I Were a Boy | Beyonce |
| If I Needed You | Townes Van Zandt , Don Williams Emmy Lou |
| If You Love Me Let Me Know | Olivia Newton John |
| I'd Like To Build The World | Hillside Singers |
| I'll Be Your Baby Tonight | Bob Dylan, Anne Murray |
| I'm Yours | Jason Mraz |
| I Want You To Want Me | Cheap Trick |
| If You Could Read My Mind | Gordon Lightfoot |
| In the Mood | Glen Miller |
| Jackson | Johnny Cash June Cash |
| John B Sails (Sloop) | Beach Boys |
| Jolene | Dolly Part |
| Just Like Heaven | Maise Star  The Cure |
| Kansas City | Fats Domino |
| Killing Me Softly | Roberta Flack |
| King of The Road | Roger Miller |
| Let it Be | Beatles |
| Leaving On A Jet Plane | Peter Paul Mary, John Denver |
| Let Me Be There | Olivia Newton John |
| Little Crooked Man (Don't Let The Rain) | Serendipity Singers |
| Locomotion | Little Eva |
| Look What They Done To my Song | Melanie |
| Love is All Around | Troggs |
| Love Me like a Man | B onnie Raitt |
| Mamma Mia | Abba |
| Master Jack | Four Jacks and a Jill |
| Midnight Special | Creedence Clearwater |
| Mr Bojangles | Nitty Gritty Dirt Band |
| Moon Shadow | Cat Stevens |
| Mockinig Bird Hill | Patti Page |
| Moving On | Hank Snow, Roseanne Cash |
| Nickel Song | Melanie |
| Night They Drove Old Dixie Down | Joan Baez |
| Norweigan Wood | Beatles |
| Ob la Di | Beatles |
| One Man's Hands | Pete Seeger |
| On This Winter's Night | Gordon Lightfoot, Sara Mclaughlin |
| One Tin Soldier | Coven |
| Over The Rainbow/Wonderful World | Ike |
| Operator | Manhattan Transfer |
| Peaceful Easy Feeling | Eagles |
| Perfect | Pink |
| Picture | Kid Rock |
| Plaisir D'amour | Folk Song |
| Play Me | Neil Diamond |
| Pollution | Humor |
| Power of Love (the) | Celine Dion |
| Pretty Women | Roy Orbison |
| Proud Mary | Tina Turner, Creedence ClearWater |
| Put A Little Love in Your Heart | Jackie De Shannon |
| Raindrops are Falling on my Head | BJ Thomas |
| Roll in My Sweet Baby's Arms | Blue Grass |
| Roses are Red My Love | Bobby Vinton |
| Runaway/Maleguena | Bonnie Raitte |
| So Far Away | Carol King |
| Scarlet Ribbons | Giselle MacKenzie, Harry Belafonte |
| Shake Rattle and Roll | Bill Hailey and Coments |
| Sentimental Journey | Doris Day |
| Shenendoah | Traditional |
| Silver Threads and Golden Needles | Linda Rondstadt |
| Singing the Blues | Marty Robbins, Guy Mitchell |
| Song For a Winter's Night | Gordon Lightfoot Sara Mclaughlin |
| Song Sung Blue | Neil Diamond |
| Stewball | Peter Paul Mary |
| Streets of London | Ralph McTell |
| Someday Soon | Judy Collins |
| Somedays are Diamonds | John Denver |
| Sylvia's Mother | Dr. Hook |
| Take My Breath Away | Berlin |
| Take me the way I Am | Ingrid Michelsen |
| The Rose | Bette Midler |
| Thinking Out Loud | Ed Sheeren |
| Ticket To Ride | Beatles |
| Tapestry | Carol King |
| Teach Your Children Well | Crosby, Stills, Nash |
| Those Were  The Days | Mary Hopkins |
| Tie Me Kangaroo Down | Traditional |
| Time After Time | Cyndi Lauper |
| To Make You Feel My Love | Bob Dylan, Garth Brooks, Adele |
| Tonight | David Bowie, Tina Turner |
| The Way You Look To Like | Frank Sinatra |
| Top of the World | The Carpenters |
| Two Out of Three Aint Bad | Meatloaf |
| This Land is Your Land | Woody Guthrie |
| Unchained Melody | Righteous Brothers |
| Unicorn | Irish Rovers |
| Under the Boardwalk | Drifters |
| Will Ye Go Lassie Go/Wild Mountain Thyme | Clancy Brothers |
| We've Got Tonight | Bob Seger |
| What a Wonderful World | Louis Armstrong |
| What's Going On | Four Non Blondes |
| Whiter Shade of Pale | Procul Harum |
| When the River Meats the Sea | John Denver, Emmet Otter |
| When Will I Be Loved | Linda Rondstadt |
| When You Say Nothing At All | Allison Krauss |
| Yellow Bird | Harry Belafonte |
| Yellow Submarine with   little help same key | Beatles |
| You Light Up My Life | Debbie Boone |
| You Won't See Me | Beatles, Ann Murray |
| Your Song | Elton John |
| Your Still The Same | Bob Seger |
| Your Cheating Heart | Hank Williams |
| Walk Right Back | Everly Brothers/Ann Murray |
| Whisky in the Jar | Folk Song |
| Wide Open Spaces | Dixie Chicks |
| Wildword | Cat Stevens |
| Will You Still Love Me Tomorrow | Carol King, Amy Winehouse |
| With A Little Help From My Friends | Beatles |
| Words | Bee Gees |
| Wrecking Ball | Neil Young/Emmy Lou Harris |
| zipadee Doo Dah | Song Of South |
| Zombie | Cranberries |
Photo Credit:  Don (Denny) Woelz.   All Rights Reserved