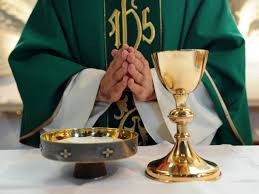 Corpus Christi, the Body and Blood of Christ…. I love these Summer Solemnities, like today and last week's Holy Trinity. For these liturgies, I always like to bring in a good dose of traditional hymnody, as well as balance it with some of the the newer compositions. So of course there was a bit of "Panis Angelicus" and "At that First Eucharist" Sometimes, when you are at four masses or five masses on a weekend, it is hard to stay to stay present and focused, but I really loved every one of the celebrations this weekend. It is so rich to sing, to play, to pray, to focus on the readings, and the Eucharist, the Body and Blood of Christ.
But how lovely to remember the koinonia, as we become the Body of Christ together. As I looked out I could see the woman who just lost her Dad this week, and the couple who had a baby on Monday and brought it to church today. While playing Tom Porters "Let Us Be Bread" I was mindful of Tom, and my many friends in North Dakota and Montana. As we sang "We Come to Your Feast" I was hearing some of Jan Michael Joncas's words anew, and finding the wisdom of a dear friend.
Tonight's liturgy with the band we started with "One Bread, One Cup" and I was praying for Bobby Fisher who is recovering from a health procedure this week.
But there are also moments of humor sometimes. As we sang "Eat This Bread" I recall one summer at Notre Dame, when I was cantoring for the liturgy. I was a bit nervous, and grabbed the "people's" book instead o a cantor book. So I started well but when I looked down to see the verses, they weren't there! I did the first one from memory. The second one I sort of mix two together. Up in the loft, you could see Andrew McShane lifting up on the organ bench and looking in his mirror, wondering what I was up to.
We moved into the next verse, and I totally made it up. At this point, Andy realizes what is happening. I come up with one more on the spot, and he realizes, "danger, danger" so after the next refrain, he revs up the stops and takes it away on the organ. I was feeling badly about the whole thing, until after mass, when a couple people approach me, saying "Where did you get those additional verses? My parish does the same ones all the time." God is good…. and a bit funny. I recalled so many school friends as I sang that hymn.
So tonight, on one of the hymns, I am concentrating pretty hard on the piano, and not singing . I wasn't following the lyrics as closely as I usually do. I had no intentions of being irreverent or anything else, but I would swear I heard something about "One Body and Crust" instead of "Christ…" All I could think of, was, "yes, that is part of the loaf too, and there are certainly some folks we deal with that are a bit crusty, and I've been known to be a bit flaky myself." In that nano second, my mind had flipped away from the liturgy, and then it came right back, and I was once again grateful to be part of the Body, and the many and different individuals who make it up.
I have another friend who speaks of "Big E's and Little E's" meaning Eucharistic moments, and eucharistic moments. I am so very touched by all of you who bring me to Christ…. in the liturgy, or over a cup of coffee, making music with friends, or hanging round a campfire. Those who teach us by example how to serve, and those who call me out of complacency and help me be a better person in spite of myself.